THE ASTONISHING COLOR OF AFTER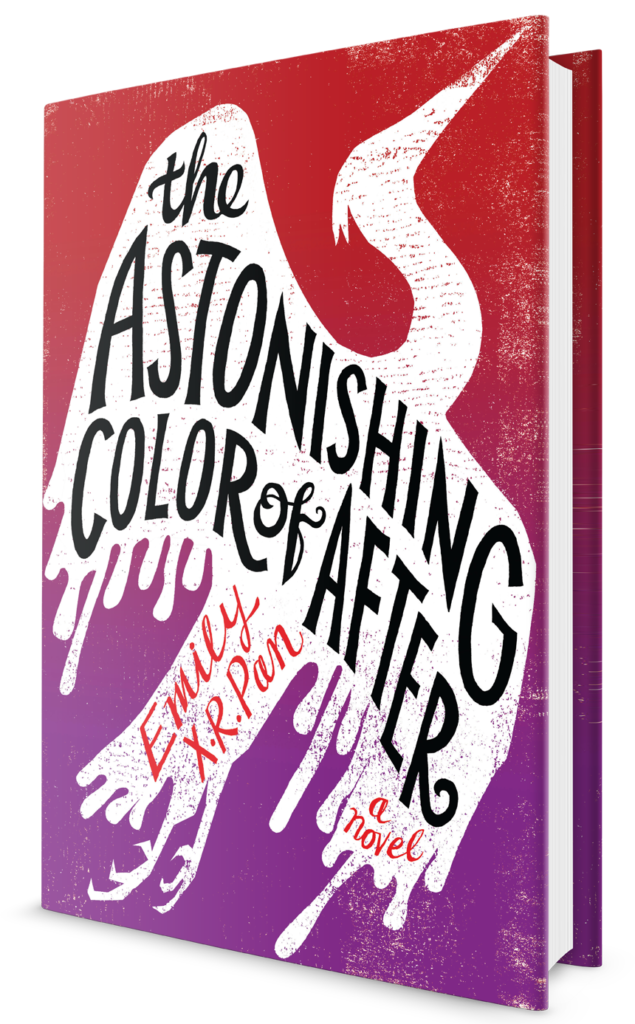 AVAILABLE MARCH 20, 2018.
Pre-order the hardcover, ebook, or audiobook:
INDIEBOUND | AMAZON | BARNES & NOBLE | BOOKS-A-MILLION
Also available in the UK (published by Orion) and in Serbia (published by Vulkan).

Selected for the INDIES INTRODUCE list:
A stunning, heartbreaking debut novel about grief, love, and family, perfect for fans of Jandy Nelson and Celeste Ng.
Leigh Chen Sanders is absolutely certain about one thing: When her mother died by suicide, she turned into a bird.
Leigh, who is half Asian and half white, travels to Taiwan to meet her maternal grandparents for the first time. There, she is determined to find her mother, the bird. In her search, she winds up chasing after ghosts, uncovering family secrets, and forging a new relationship with her grandparents. And as she grieves, she must try to reconcile the fact that on the same day she kissed her best friend and longtime secret crush, Axel, her mother was taking her own life.
Alternating between contemporary and magical elements, past and present, romance and despair, The Astonishing Color of After is a novel about finding oneself through family history, art, friendship, and love.
With lyrical prose in the vein of Laini Taylor, and an innovative structure reminiscent of A. S. King, Emily X.R. Pan's luminous debut novel is poised for literary appeal and commercial success.
E A R L Y   P R A I S E :

"Emily X.R. Pan's brilliantly crafted, harrowing first novel portrays the vast spectrum of love and grief with heart-wrenching beauty and candor. This is a very special book."
— JOHN GREEN, bestselling author of The Fault in Our Stars and Turtles All the Way Down

"Magic and mourning, love and loss, secrets kept and secrets revealed all illuminate Emily X.R. Pan's inventive and heart-wrenching debut."
— GAYLE FORMAN, bestselling author of If I Stay and I Was Here

"This book mesmerized me from page one. With its lyrical writing and heartbreakingly real protagonist, The Astonishing Color of After provides a poignant reminder of grief's power and the transcendence of love. Emily X.R. Pan utterly transported me to a world reminiscent of Isabel Allende. Haunting at every turn, this is a glorious debut."
— RENÉE AHDIEH, bestselling author of The Wrath and the Dawn

"The Astonishing Color of After is an elegant, poignant journey that crosses an ocean of memory and great loss to face the ghosts of the past and find vivid love. An extraordinary debut from a fiercely talented writer."
— NOVA REN SUMA, bestselling author of The Walls Around Us

"This beautiful, magical journey through grief made my heart take flight."
— HOLLY BLACK, bestselling author of The Cruel Prince and The Darkest Part of the Forest

"The Astonishing Color of After works a delicate magic. Its portrayal of grief is deeply felt, and so too is its deliciously tricky romance. I loved this book."
— MARIE RUTKOSKI, bestselling author of The Winner's Curse


"My heart has never been more pleasantly devastated. A raw and brilliant debut."
— ROSHANI CHOKSHI, bestselling author of The Star-Touched Queen


"'Astonishing' is the perfect description for this book, which follows Leigh from America to Taiwan, where she meets her grandparents for the first time after her mother's death. I was stunned by the beautiful and engaging writing in this book; the story consumed me from start to finish. It's hard to believe that this is Emily X.R. Pan's debut novel, especially with the perfectly executed deep and complex themes. It will definitely be a favorite among both adults and teen readers!"
— Kristen Beverly, Half Price Books (Dallas, TX)

"This is some of the most beautiful, lyrical prose I've read in a very long time. Reading this book was a physical experience that brought chills one minute and tears and laughter the next. Breathtaking and honest, this story of love and loss will break your heart and mend it again."
— Stacey Haerr, Warwick's (La Jolla, CA)